Shopping Cart
Your Cart is Empty
There was an error with PayPal
Click here to try again
Thank you for your business!
You should be receiving an order confirmation from Paypal shortly.
Exit Shopping Cart
an annual benefit party for Planned Parenthood of Greater TX
This year we decided to honor two of our trusty volunteers who have helped us out a lot the past three years and not received much thanks -- our "Manservants", Chris and Brent!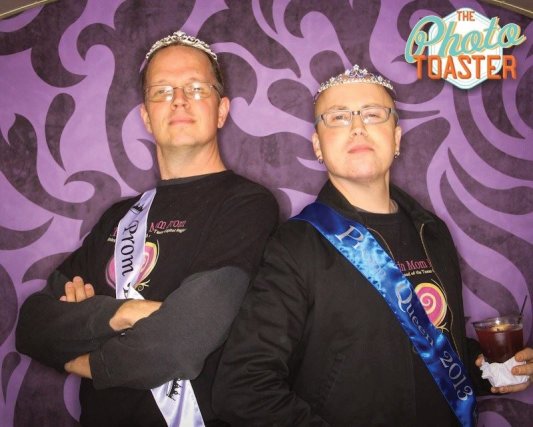 Thanks for your support of Planned Parenthood, and for being such great helpers in our Prom effort, guys!  Congrats to you both on this honor!  Wear your tiaras with pride.    :-)







Donation Tally News coming soon...




-Rebecca








Tune in to 91.7 FM at noon tomorrow (Wednesday the 17th) to hear my fun interview with Ken Casey and Matthew Johnson of the ReMIX radio show.  (Each week the ReMIX hosts invite a guest or guests to share a memorable "mixtape" from their past and discuss the stories behind the music.)




The ReMIX guys and I will talk about musical inspirations, growing up in the special magic that was the '80s, exciting upcoming projects, and the importance of putting the toilet seat down for guests.




You can see a list of my "mixtape" songs here!:   








(And yes -- there's a plug for the Prom at the end of the interview!)







Thanks for all you do,




-Rebecca




Found this beautifully-written piece by Maggie Gyllenhaal today, and thought you'd enjoy it!











In other news, I'll have an announcement next week about my upcoming radio interview on KO-OP radio....  Stay tuned!







Thanks for all you do,




-Rebecca




I thought I'd write a little bit about those marvelous Richards gals today:








On the recent anniversary of the Affordable Care Act, PPFA President Cecile Richards had this to say:




"The Affordable Care Act is the single biggest advancement in women's health in a generation and is already making a big difference in the lives of women across the country. Women of all walks of life are starting to get both birth control and important well-woman checkups at no cost for the first time," said Cecile Richards, president of Planned Parenthood Federation of America.




"As the nation's leading women's health care provider and advocate, Planned Parenthood knows firsthand how important the Affordable Care Act is to women. When women have access to the full range of birth control options without a co-pay, they benefit, their families benefit, and we all benefit. That is why we're so pleased that the Obama administration has been clear that insurance companies must cover the full range of FDA-approved types of birth control.  We will continue our work to ensure that all women – no matter where they live or who their boss is – have access to these benefits," said Richards. 







Cecile's wonderful mother, Ann Richards, is the subject of a new book published by the University of Texas Press entitled

Let the People In

.  I've got a copy of this book on my nightstand right this minute and am close to finishing it; it's a fantastic look at the meteoric rise of a truly fearless lady. 




I remember being a student at UT when Ann Richards became our governor, and singing carols at the governor's mansion Christmas parties with the UT Concert Chorale.  This book paints a behind-the-scenes picture of that time for me, and illustrates what a group of close-knit friends can do if they put their minds to something great.  (Sound familiar, gals?)





Brady Dyer, who is the head of marketing over at the UT Press, has personally donated a copy of

Let the People In

along with a very sturdy UT Press canvas book bag for our raffle this year!  (Thanks, Brady!)  You can check out the current list of raffle items over on the

home page

.







Have a wonderful weekend, everyone, and thanks for all you do!




-Rebecca


If you're in your forties or older, you already knew it was true, but if you're younger than forty, you may take for granted how access to birth control has increased your earning potential.  (I'm not knocking that; in fact, I think you SHOULD be able to take it for granted.)




A recent paper out of the University of Michigan illustrates the importance of access to birth control for women's long-term earning potential. After cross-examining wage and education data for women born between 1943 and 1954,

economist Martha Bailey

estimates that one third of women's wage gains since the 1960s were made possible by the Pill.










Happy reading, and thanks for all you do -





-Rebecca




I was just doing a little poking around, looking for something to write about this week, when I came across a fantastic interview: The Daily Show's Jon Stewart interviews Cecile Richards, President of Planned Parenthood and all-around champion of women's reproductive health and justice.




Have a look at parts 1 and 2 of this wonderful interview!  Granted, it's from last March, so some of the topics of conversation revolve around the presidential primaries, but you will be tickled (and inspired) to hear what she has to say:

















If you are interested in making a monthly donation of $5 to PPGT, simply fill out this form and send it in:

























Thanks for all you do, friends!  Have a beautiful week!




- Rebecca




If you believe that you should be able to choose your own doctor (rather than the Governor making this decision for you), visit www.StandWithTexasWomen.org to let Texas politicians know that Texas women are perfectly capable of choosing their own health care provider...







Thanks for all you do!





-Rebecca




Last August, the U.S. Fifth Circuit Court of Appeals ruled that the state of Texas can deny women access to preventive health care, despite the desperate need of thousands of uninsured Texan women for basic preventive care. The court lifted an injunction that had barred Texas from enforcing its ban against Planned Parenthood health centers' participation in the Women's Health Program.




Following the ruling, Cecile Richards, president of the Planned Parenthood Action Fund, issued this statement:

 


"We are evaluating every possible option to protect women's health in Texas. This case has never been about Planned Parenthood — it's about the women who rely on Planned Parenthood for cancer screenings, birth control, and well-woman exams.

 

"It is shocking that politics would get in the way of women receiving access to basic health care.  Governor Perry has already thrown 160,000 women off of health care for partisan political reasons — now there will be more to come. Today's ruling puts the health of an additional 52,000 women in jeopardy. 

 

"For nearly 100 years, women and families have trusted Planned Parenthood for high-quality, affordable health care and information. We won't let politics interfere with the health care that nearly three million people a year rely on Planned Parenthood for in Texas and around the country. Planned Parenthood health center doors are open today and they'll be open tomorrow."







The Texas rule to exclude Planned Parenthood from the Women's Health Program comes after budget cuts, passed by the state legislature and signed by Governor Perry last year, dramatically reduced the state's family planning program by more than two-thirds.  These cuts are projected to take health care away from 160,000 women per year...










<Sigh.>




 You read these statistics and the problem just seems so... LARGE.  It leaves you feeling helpless.  What can YOU possibly do, with your limited budget and your life already full of your own problems to deal with?  You look at your hands; you think, "They look so small...  And the problem is so big...  How can I help with just these little hands?"







You just make sure to do what you can.    :-)




Vote.  Talk to your friends.  Sign up with Planned Parenthood to give them $5.00 per month.  Here's the form:  




























It's overwhelming, and it's easy to feel defeated.  Don't give up.  You believe in Planned Parenthood and the good work they do for us.  Every tiny gesture has a ripple effect.  You can't solve the world's problems by yourself.  You can only do whatever you can do.  Make sure you do that!




Have a beautiful day, all!  --




-Rebecca




Great news, ladies!  Forget about having to bring cash, skip the entry line, and pre-pay your entry fee for Mom Prom via our website!  Go to the "Get on the Guest List" page, and click the Paypal button to submit a payment.  We'll be collecting these donations in a savings account, and every penny will go to Planned Parenthood the night of the party.




We love that we have these convenient tools available to us!  You don't even have to have a Paypal account; just choose the option to enter your payment info without an account.  It's going to make our lives a lot easier, I think, and it means we will have less cash to keep track of the night of the event.  Whew!  (I'm always so worried someone's going to walk off with the cash - you know?)




Have a great day today, and thanks for all you do!







-Rebecca




0

/