Shopping Cart
Your Cart is Empty
There was an error with PayPal
Click here to try again
Thank you for your business!
You should be receiving an order confirmation from Paypal shortly.
Exit Shopping Cart
an annual benefit party for Planned Parenthood of Greater TX
| | |
| --- | --- |
| Posted on May 31, 2014 at 5:20 PM | |
I apologize that it's taken me a while to send any kind of Prom wrap-up announcement.  I've been working through some unexpected details, trying to determine what it means for our final donation.
It definitely felt like the room was less crowded than in past years (even considering we were in a much bigger room).  Attendance felt light.  It wasn't until I sat down with the sign-in sheets the next day that I realized just how light: the numbers tell me that a whopping 31% of the folks who said they were coming did not show up.   A couple of them have reached out since then, but for the most part I think I have to accept that I'm just not going to know why so many folks didn't show.
Unfortunately, since we had budgeted our bar guarantee for the venue based on the number we thought we'd have, and since we were not even close to that number of guests, we didn't end up making our bar guarantee.  The shortfall had to come out of the proceeds.
Yes, it's a shame, but - I don't write this with any intention other than to keep you all informed.  I don't want to tell you what the final donation is and then have you all emailing me saying "but at the party you said it was so much more!".  Yes.  I know.  But I didn't get the news about the bar shortfall until AFTER the announcement.  Very unfortunate.
So, here we are:  the donation to PP this year is $1100.
Yes, prior to this year's Prom I was completely convinced we were going to break our donation record again, and yes, this donation is actually less than our first donation in 2011. 
However, I choose not to think of it as a failure; there were a lot of new factors at play this year which affected the outcome.  I choose to remember the party as so much fun, with fantastic dresses and painted faces and celebrity prom dates, and at least a dozen new guests who are already excited for next year's Prom.  I will cherish the memory of rocking out on stage at The North Door, and all of you rocking out with me.  I will cheerfully hand out the rest of the Goddess Prom 2014 lip balms, with their cute little pink sparkly stickers, to anyone who will take them (I spent a lot of time on those, after all, and it's by far the
best lip balm I think I've ever used
). 
I choose to focus on the work we did and the foundation we laid so that next year will most certainly rock even harder.
With sincere thanks for all you do,
-Rebecca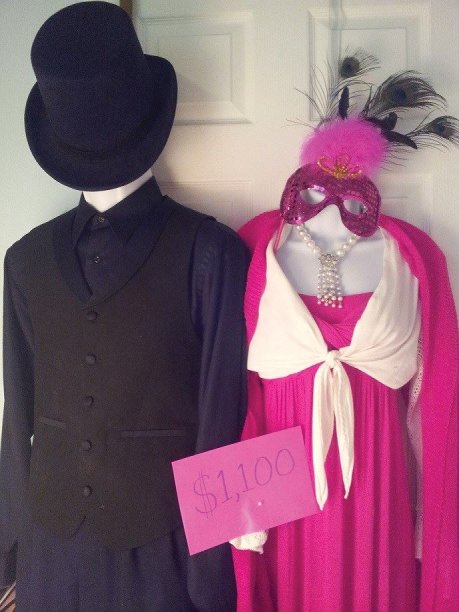 Categories: The Goddess Prom
/